I've been busy lately making stuff for the kids for Christmas. I'm not really big into commercialized Christmas; I prefer to give homemade gifts, and love to receive them as well. Of course we supplement our gift-giving with store bought things like books and a few toys, but I try to make as many Christmas gifts as I can.
I also love giving gifts that will actually be used. In our house, toys get played with briefly, then thrown on the floor in the bedrooms and tend to be forgotten about. That's why I try to keep toy-type gifts to a minimum and make/give lots of useful things that are also fun. This year I have spent the past couple of weeks making pajamas, aprons, and caps for the kids.
For the pajamas, each child chose a print of flannel for me to use, but they don't know what it's for. I made each a pair of flannel pants and a bought shirt with a personalized applique. I didn't use any patterns for the pants or appliques, I just traced around pants that fit loosely.
Zaylee's pajamas are covered with butterflies and flowers! I love this butterfly print flannel that she chose, the colors are lovely and butterflies are so fun.
Thomas chose this manly blue flannel. You can't tell from the picture, but the shirts I got were from the girls' section, and I didn't realize until later that they have slight gathers on the shoulders that make them look somewhat feminine. I knew I had to counteract that with a boyish applique - enter the stegosaurus!
Zaylee chose this pink paw print fabric for Audrey, who was taking her nap at the time. Since Audrey is a little sweetheart, her applique is a heart.
All together, a pretty cute bunch.
My next project was to make each kid an apron. My kids love helping out in the kitchen, and every time they see me put on an apron, they run to the apron bin and grab an apron to wear. But they have to wear my aprons, which are too big for them. So I though they would enjoy each having their own apron, made just for them in their own size.
Again, I didn't use a pattern. I just traced out a basic apron shape in an appropriate size, hemmed all the edges, and added straps. They were very simple to make, and are sure to get lots of use. I also decided to make each one using fabric with a vintage-y feel, because I just really love that look.
Zaylee, my girly girl, will love this pink apron with little flowers.
Thomas' apron has tiny green stars.
Audrey will look so sweet in the pale blue apron with pretty little flowers.
And finally, yesterday evening I used
this super easy pattern
to make each kid a warm cap to wear. It gets cold here in Utah, and the kids really need something to keep their heads and ears warm in the winter. The outside is simple cotton fabric, and the inside is fuzzy warm fleece. Ear flaps and chin tie straps complete these darling caps. Since the patten is sized for 10-16 months, I had to enlarge it three different times to make three different sizes of cap.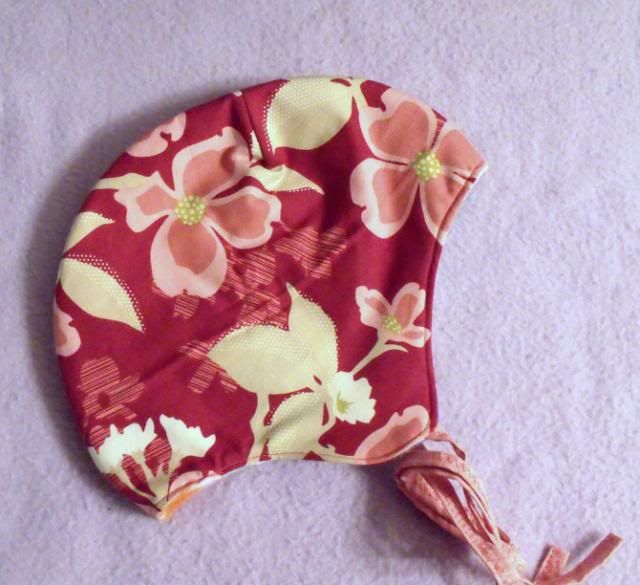 Zaylee's is dark pink with flowers. She really loves pink. And flowers.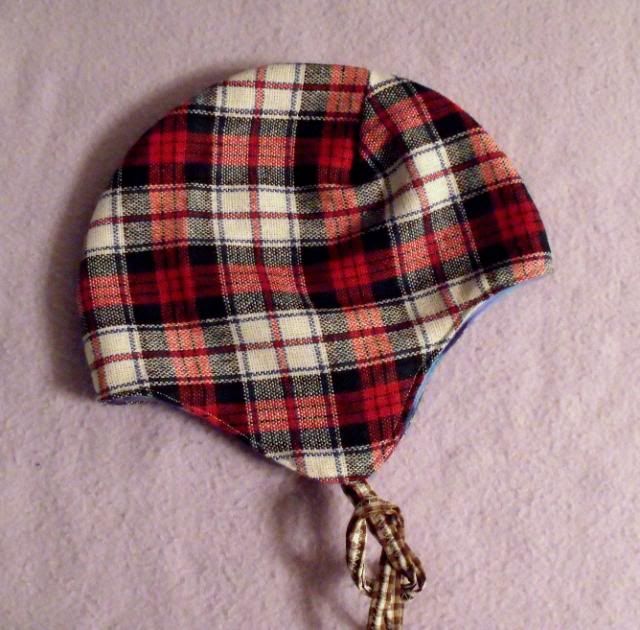 Thomas' hat is made with this red plaid. He'll look so cute as a manly little lumberjack!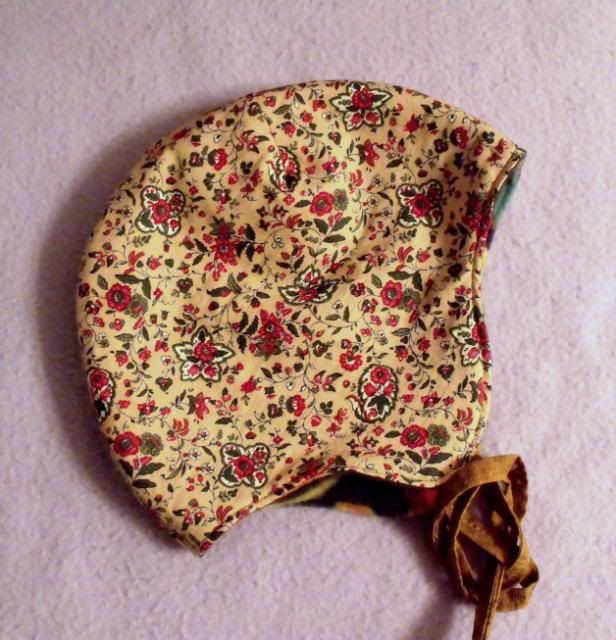 Audrey's hat is this classy brown fabric with flowers and paisley.
And here is Audrey modeling her little cap. I love that it's fitted so nicely and has chin straps - Audrey tends to not like wearing stuff on her head so it's nice that I can tie it on and she can't take it off! I also love that I can use her to model her own gifts, because for now she's still too young to know any better. :)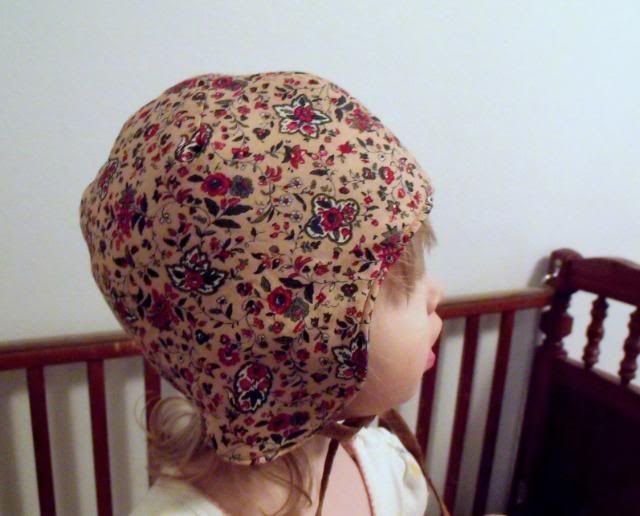 Look at those cute little curls peeking out! And those darling cheeks, I could just munch them up.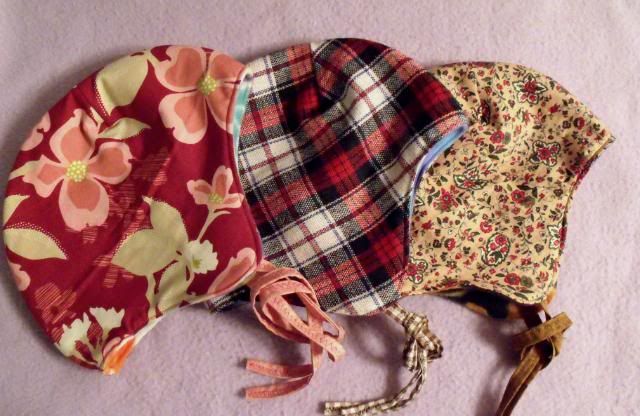 Makes me want to try to enlarge the pattern enough to make a cap for me - they look so cozy!
I'm sure there will be more homemade goodness to share before Christmas comes. I've got lots more ideas floating around!