I seem to have bad luck when it comes to making things for myself to wear. They just don't fit right, or don't look right. Recently, a skirt for myself turned out so awful I had to cut it apart and turn it into skirts for Zaylee and Audrey instead. Hats that I try to make for myself usually end up too small and I have to give them to Zaylee. She makes them look way cuter than I ever could!
But this time I guess I found the right pattern, the
Sarah Hat
from
BurdaStyle
. It's a newsboy cap, with six triangular panels, a neat little brim, and a button detail.
I really love how this hat turned out. Especially the fact that it actually fit me. It's sassy, but with a dark color that's somewhat subdued, which really fits my personality as well.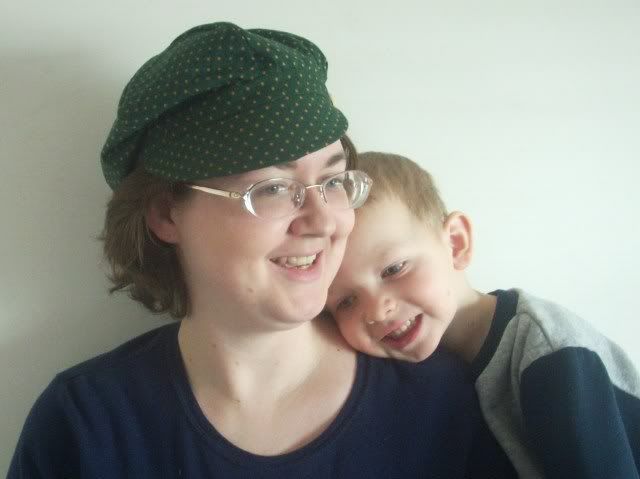 I love my little guy. And my hat. :)
I'm submitting this project to
The 12 Month Craft The World Challenge
. The theme for February is Garden. This hat fits the theme because it is green, the color of plant life. Also, it would make a great hat to wear while gardening - you can look chic while keeping the sun off your face.
Pattern
Instructions