As I lay awake late last night (wishing I hadn't made and consumed a microwave mug cake right before bed) I came up with plans to make a new cover for my Kindle. I really like the first one I made, but there were improvements I wanted to make. The button loop on the side was a little annoying, and I wanted the elastic corners to be more snug and do a better job at holding the Kindle in place. Plus I wanted a bit more padding for the front and firmer board for the back.
So I put all those wants and ideas together and came up with this lovely little thing:
I used a nice sturdy cardboard for the back, and batting for the front. The flap in the front can be moved to the back to open the cover, and to hold the padded part in place while I'm using the Kindle.
Pulling back the flap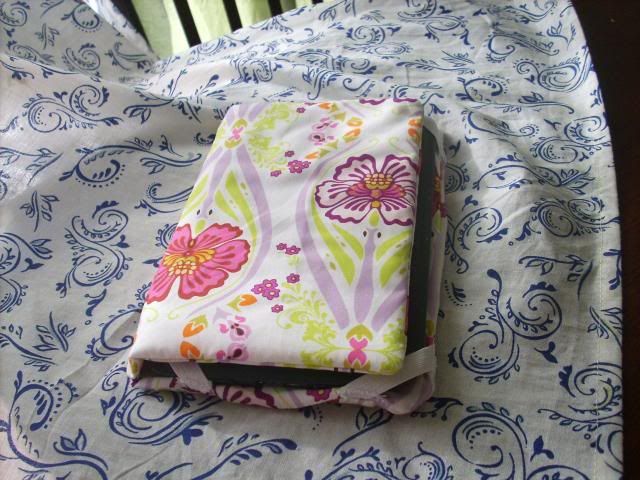 The padded front
Opening the cover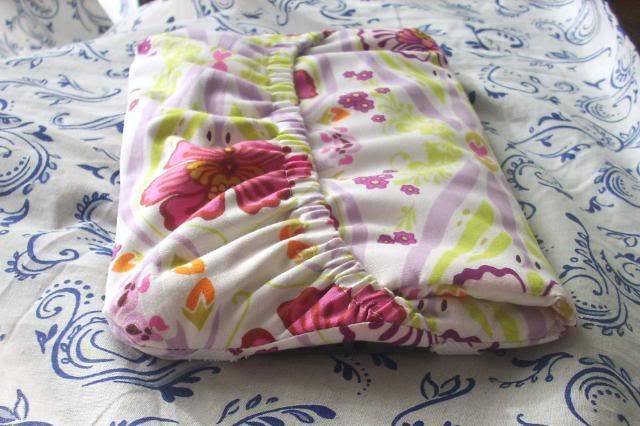 The elastic flap holds the padded flap in place so it doesn't flop around
With a layer of batting in the front of the cover, I'll feel more comfortable keeping my Kindle in my bag when I go somewhere, and not worry about cracking the screen or anything. Plus, it makes it more comfortable to hold, because it's all soft and squishy.
I made sure to make the elastic tighter so that it will hold my Kindle snugly, and the elastics also cover a little bit less of the bottom buttons. Now I don't have to take the Kindle out of its cover if I want to play games on it, which I do rather frequently.
I think I did end up sewing the elastic straps on a little crookedly, as can be seen in this picture, but it's not enough to convince me that my experiment in creating my own Kindle cover was anything but a success.
I didn't take pictures of the process of making this, but if I ever make another one I'll try to put together a tutorial. Since this was just an experiment there are still kinks to work out. But on the whole I'm super satisfied and love my new Kindle cover.